Curriculum Intent
At Harbour School Dorset (HSD), we believe that all children are entitled to an accessible education that supports the child in a positive manner and enables them to reach their full potential.
ASC and SEMH needs impact on individual development and, to differing extents, shapes the nature of the child's education. Education for these children should reflect the unique presentation of each individual and we believe these differences merit a specific approach whereby skills can be fostered to maximum effect, rather than trying to fit the child into a 'normative' model of development.
The core intent of the HSD curriculum is to support the child in developing independence, to encourage a positive sense of self, and to promote a positive attitude to learning so that each child can access learning fully.
Within these broad principles, we recognise that we have a responsibility towards a wide range of learners and that certain principles must underpin our curriculum intent and implementation.
These principles are:
the inclusion of all pupils
recognition that pupils acquire understanding at different rates and in different ways
that opportunities must be given for pupils to organise information and to generalise and practice new skills
that experiential learning is vital for all pupils.
recognition that there is a social and emotional aspect to all pupils' learning
the recognition and celebration of multi-cultural diversity
the promotion of pupil self-esteem and resilience
the meeting of legal obligations.
These guiding principles are the foundation of our aim as part of The Delta Education Trust (DET):
'Learning together in pursuit of happiness'
This forms the core of our curriculum and can be best visualised in our Curriculum Framework.
LEGISLATION AND GUIDANCE
This Curriculum Statement reflects the requirements for academies to provide a broad and balanced curriculum as per the Academies Act 2010, and the National Curriculum Programmes of Study, which the school has chosen to follow where appropriate to meet the needs of individuals.
It also reflects requirements for inclusion and equality as set out in the Special Educational Needs and Disability Code of Practice 2014 and Equality Act 2010, and refers to curriculum-related expectations of governing boards set out in the Department for Education's Governance Handbook.
It complies with our funding agreement and articles of association.
INCLUSION
As a Special Free School, all pupils will have Special Educational Needs and/or Disabilities and the majority will have an Education and Health Care Plan (EHCP). Teachers set high expectations for all pupils. They will use appropriate assessments contextualised with Goals and Progress (GaPs) documents to set ambitious targets and plan challenging work matched to need for all individuals and groups, including:
More able pupils
Pupils with low prior attainment
Pupils with a specific learning disability
Pupils from disadvantaged backgrounds
Pupils with English as an additional language (EAL)
Teachers will plan lessons so that all pupils have the opportunity to study every National Curriculum subject, wherever appropriate, and ensure that effective support / interventions are in place in order that barriers to achievement are removed or reduced.
Teachers will also take account of the needs of pupils whose first language is not English. Lessons will be planned so that teaching opportunities help pupils to develop their English, and to support pupils to take part in all subjects.
Personalised Learning
Years 5, 6 and 7
Pupils in Years 5, 6 and 7 follow an innovative, topic-based curriculum (the Cornerstones curriculum) that allows for individual needs to be met in a creative learning environment and prepares them for the demands of the next stage. There is a strong emphasis on shared outdoor learning opportunities that enable pupils to develop self-confidence and an understanding of different environments and social situations. Pupils in these year groups have a single teacher/tutor who maintains responsibility for all aspects of their provision.
We use our academy freedoms to enable a curriculum that meets individual need as well as the profile needs of our pupils. However, we think it important to follow the National Curriculum as closely as possible.  We use Cornerstones as the basis for our lower-school curriculum which maps National Curriculum coverage and can be used as a basis for our Year 5, Year 6 and Year 7 teachers to develop their areas of the NC.
Years 8 and 9
Our Year 8 and Year 9 curriculum moves to a secondary model in which subjects are taught discretely and there is greater emphasis on transition; pupils are required to move between learning environments and teaching staff, thereby being supported to generalise their developing social skills. Pupils in these year groups have a single tutor, who is responsible for all pupils' provision that sits outside of Personalised Learning. Personalised Learning is the responsibility of subject teachers.
Years 10 and 11
When pupils reach Year 10 and Year 11, there are flexible academic and vocational pathways that include Functional Skills, employability skills and independent living skills.  We work closely with partner schools and colleges to ensure that those pupils aiming for post 16 academic or vocational qualifications have full support and the opportunity to succeed.  Our micro businesses will provide high quality work experience opportunities that open pathways to internships with local businesses.
Curriculum Pathway
Cornerstones 
Transitions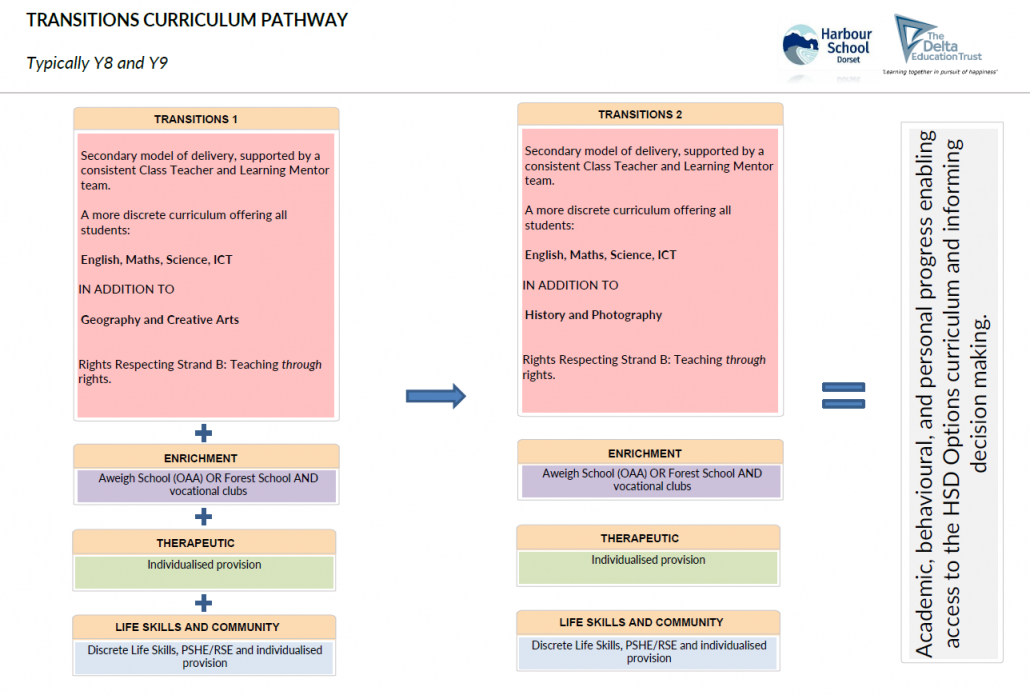 Options
Options currently available for HSD pupils can be seen below:
Academic and Vocational 
Mixed 
Enrichment
Aweigh School
When we listen to our parents and pupils, most of them tell us that typical mainstream physical education has historically been cause for anxiety. This has in some cases been considered the reasons for non-attendance or reduced timetables in the past. At HSD, we know how important exercise is for our well-being and resilience. We have appointed the Aweigh School, a team of outdoor education experts that are experienced in adapting experiences to meet the needs of pupils. This can be very motivating for those pupils who struggle with PE and learning in the classroom.
Aweigh School provides a broad menu of opportunities for pupils to experience the wider world, take risks and develop creativity, curiosity, new interests and aspirations to become confident, independent learners. Qualified staff will use the natural world to stimulate imagination through a range of outdoor activities. Pupils are free to sample the full menu or pursue a particular interest.
Forest School
Forest School focuses on the development of relationships with positive interaction between different people. The learner centred approach is process not product led – it's not so much about what you learn as about how you learn it. It has high leader:learner ratios that encourage development of personal skills alongside ensuring safety and progress with physical skills in a multi-sensory way.
Forest School provides opportunities for emotional review and regulation within a repeated, safe environment. This can lead to gains in emotional literacy (processing and learning how to vocalise feelings of self and others during sessions). It provides opportunities to grow in confidence, self-esteem and independence.
The repeated visits to a local natural environment over a range of seasons enables our pupils to build on skills acquisition progressively over time; the same leader in the same setting giving unique learning opportunities. Forest School offers pupils a means to engage in a positive way with their local outdoor environment; engendering respect and a more knowledgeable approach to our environment, viewing it as something to be valued and managed sustainably.
Clubs
Every pupil at HSD engages with an Enrichment Club weekly on a Friday morning. The clubs are delivered by Class Teachers and Learning Mentors and offer extended opportunities for pupils to make progress towards their Core Skills PLGs.
Additionally, these clubs offer students recognition for their learning through the AQA Unit Award Scheme Unit Award Scheme (UAS). The UAS is invaluable as it is an important pathway for our students to receive accreditation for their achievements. It provides a wide range of units which are differentiated, making accreditation accessible to all pupils regardless of their ability. Furthermore, through allowing amendments and writing our own units, we are able to expand and customise units to our pupil's individual learning interests and needs.
Therapy
Mentoring
All pupils have a link mentor who acts as advocate, meets with them weekly to celebrate success and discuss problems and is the first point of contact for families and other professionals. Mentors are responsible for setting Core Skills Personalised Learning Goals (PLGs) for pupils and supporting/reviewing progress towards these.
Core Skills PLGs are informed by the Autism Education Trust's (AET) Progression Framework -a tool that identifies key areas of learning for pupils with ASC that sit outside of the National Curriculum.
Mentoring is an ongoing process and Learning Mentors work with students in every lesson to promote positive social and learning behaviours (informed by Core Skills PLGs), and subsequent progress towards identified Personalised Learning goals.
Interventions
The community provides a great place in which to generalise and transfer new and emerging skills. We are always interested in increasing the type of experiences that we can expose the children to as well as working with many partners in support of the development of community cohesion.
At HSD, interventions are delivered with either a Personalised Learning focus or a Therapeutic focus. These interventions are managed by the SENCo and Middle Leadership Team and delivered by the HLTAs.
The record and impact of determined interventions is recorded in pupils' Passport Plus documents.
Level 2-4 Services
The Family Liaison Officer and Designated Safeguarding Lead support school staff to work effectively within multi-disciplinary teams.
High-quality multi-agency work is of high importance and the school recognises that it is essential to work collaboratively to provide each pupil with a personalised provision that addresses their social, emotional, educational and health needs. Enrichment and family activities are integrated with the aim of equipping pupils with skills and strategies for independent living in modern Britain. Initial and ongoing assessment (see Assessment Policy), regular reviews (SEND Policy) and partnership working with parents inform personalisation.
The Role of Therapies in Pupils' Learning
Therapeutic support as required, initially through a pupil's EHCP, is included under the guidance of therapeutic professionals.
Life Skills and Community
Life Skills
Life Skills are taught both discretely and embedded broadly across the HSD curriculum. The organisation of Life Skills coverage at HSD can be seen in Figure 5.
Work Experience (IAG)
Information, Advice and Guidance (IAG) forms an integral part of our curriculum in KS 3, 4 and 5. Students identify key milestones with our IAG Advisor that reflect developing interests, aspirations and goals, identifies curriculum choices and destination-focused planning for the next stage of education or training, community opportunities and independent living. IAG continues through work experience, interviews and beyond school when graduates face the challenges of the next stage.
Rights Respecting and The HSD Rights Respecting Framework
The HSD Rights Respecting Framework informs all aspects of provision at HSD. It is designed to be embedded in lessons and planning and is progressive initially teaching about rights and subsequently through rights and for rights (Figure 3 and Figure 6).
SMSC and British Values 
As a Trust, we are committed to welcoming pupils and families of all faiths and beliefs and encouraging them to respect fundamental British values.  Through our Admissions Policy, and in line with the SEND Code of Practice, we make it clear that we will admit pupils on the basis that the academy is able to meet the needs as stated in our funding agreement. Religious Education themes and topics are included in all three stages of the HSD Curriculum Progression and are defined in the HSD Rights Respecting Framework.  Pupils of any faith and those of no faith are encouraged to value everyone and their beliefs equally.  Assembly times focus on celebration, reflection, appreciation and the worthiness of all members of the community.
Through a broad curriculum, we actively promote fundamental British values (democracy, the rule of law, individual liberty, mutual respect and tolerance of those of different faiths and beliefs) by way of cross-curricular themes in the lower school and through PSD in the upper school. We actively challenge pupils, staff or parents expressing opinions contrary to British values and seek to promote a positive approach to pupils' spiritual, moral, social and cultural education. We carry out an annual curriculum audit to ensure that it consistently prepares pupils for life in modern Britain.
Sex and Relationships Education (see RSE Policy) 
This is delivered through the thematic curriculum, informed by The PSHE Association and ASDAN PSD, at a level appropriate to individuals and groups.  We work closely with a range of agencies, including health colleagues, who provide specialist input and support.
Curriculum Impact
Personalised Learning Goals (PLGs)
The impact of the HSD curriculum is measured by reviewing progress towards Personal Learning Goals. PLGs are context dependent. They include, but are not limited to, attainment targets set
out in the National Curriculum and Functional Skills Programmes of Study and the AET Progression Framework.
Family Fridays
Any child with additional needs requires a support network that is cohesive; therefore, we believe it is imperative to work in close partnership with parents/carers and families. Often children have highly complex needs and may require considerable levels of support for everyday life. A diagnosis of autism affects the whole family; close work between home and school provides the best all-round support, as well as facilitating the sharing of good practice and successes across both environments.
Family Fridays also supported the effective review of Core Skills PLGs, informed by pupils' EHCPs. This review of previous targets, and setting of new targets is done during Family Fridays, in full consultation with pupils and parents, every half-term.
Accreditation
All learning outcomes, including enrichment, are accredited through GCSE / BTEC / City & Guilds / ABC/ ASDAN/ AQA Unit Awards and Functional Skills.